Retailers still adapting as residents stock up on instant noodles
CPF and Nestle, producers of Mama cup noodles and Knorr instant porridge respectively, have given an official statement on the recent sudden rise of sales following panic from the ongoing COVID-19 pandemic.
"We're very pleased to see that, in spite of the ongoing pandemic, people still have trust in our products", stated Kantithat Suraprasert, chairman of CPF. "Our production lines are still ramping up to catch up with the demand, but we will have our food products back in stock throughout the country in no time at all."
However, citizen media seems to give a different outlook. One Facebook user, who wishes to not give their name, predicts that supplies would be out of stock in a few weeks. "We still have a choice between a few brands today, but next week we might not be able to even choose the best-looking packet. If you have time, I suggest you prepare now", they predicted in their livestream.
Our investigative journalism team tracked down the chain, and uncovered this as the original post: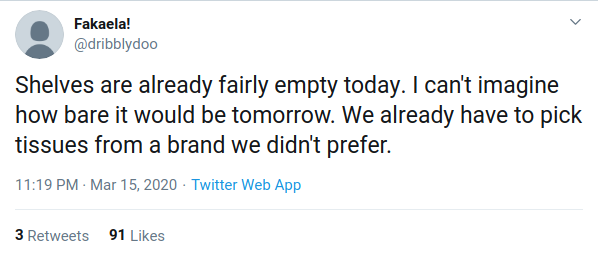 Many people are rushing to stock up supplies such as soap, toilet paper and frozen food in their homes. In some circles, it seems to be generally understood that the shelves will be empty in days rather than weeks. "Better squeeze into here and get something rather than get nothing at all", says a middle-aged woman in the cashier queue with a brimming cart.
Supermarket data gives an interesting insight into what's happening. Sales statistics from CRN (who runs TOPS Supermarket) indicates higher-than-usual but still controllable figures since the beginning of the pandemic, but shot up by more than 2 orders of magnitude yesterday. "The sudden spike is what really knocked the system out of balance", stated Chuwi Dithong, deputy inventory manager at CRN. "We were able to keep the shelves fairly filled before, you know, that happened."
When asked about the official statements, one shopper replies that he doesn't trust them, and instead relies on reports from his friends and social networks to keep himself informed about the situation.
"Of course they would say everything's A-OK. Why wouldn't they?", he said.